NEWS FEED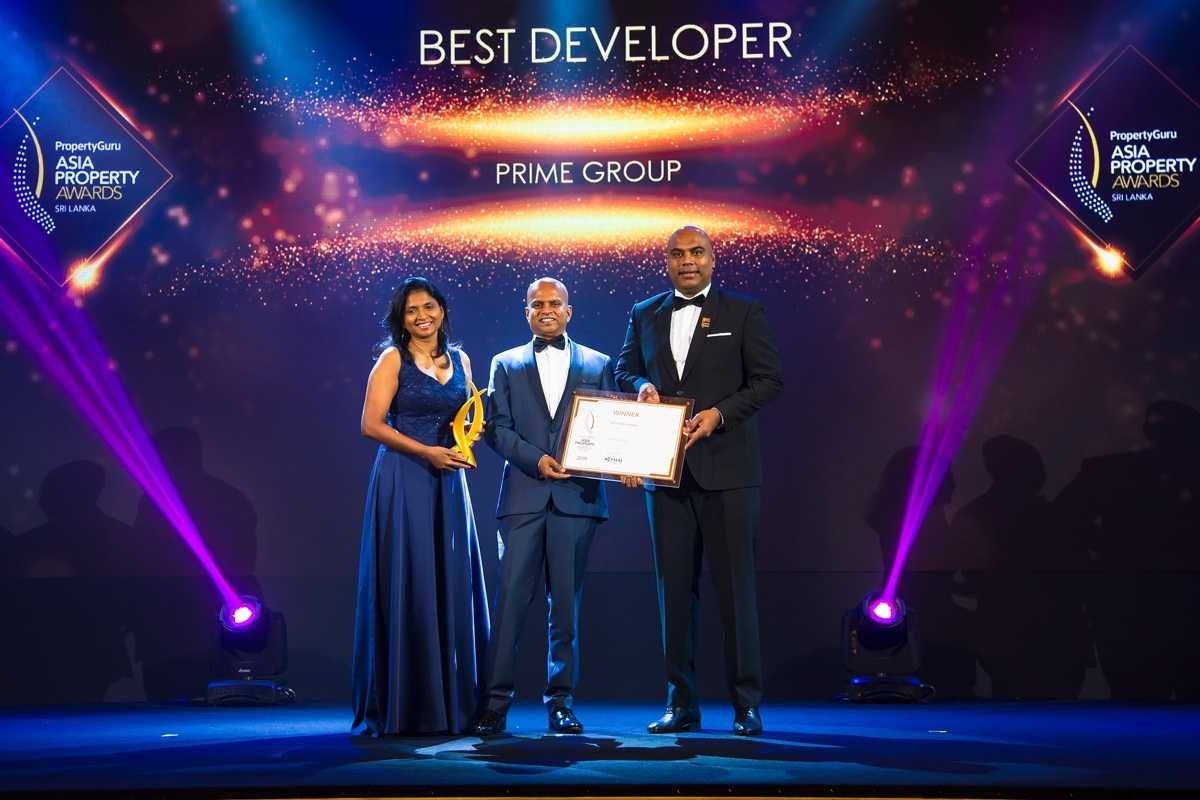 Prime Group Crowned Best Developer In Sri Lanka Yet Again At The Prestigious Property Guru Asia Property Awards

2019-11-22
Distinguished property developer Prime Group bolstered its reputation as an industry leader by securing four top awards, including the coveted Best Developer title, in the Sri Lanka segment of the prestigious PropertyGuru Asia Property Awards Grand Final, held on 22 November at the Athenee Hotel in Bangkok, Thailand.
This was the second consecutive year Prime Group was bestowed with the Best Developer Award. The three other accolades the firm walked home with were for the Best Luxury Condo Development through its opulent Prime Grand, Ward Place, Colombo 07 property, the Best Housing Project in Sri Lanka for its novel Prime Urban Art development and was given special recognition for the Group's CSR social initiatives.
"We are thrilled to have been presented with four of Sri Lanka's top titles at such a globally-renowned real estate awards ceremony. Our triumph at the event, particularly our second successive victory in the Best Developer category, provides further affirmation of our role as a trusted and innovative leader in the local real estate market, offering high-quality property solutions to a wide variety of homeowners," said Prime Group Deputy Chairperson Sandamini Perera.
The group's Prime Grand, Ward Place property set to be the only high rise in Colombo 7 offers its future occupants breath-taking views, absolute luxury, eye-catching architecture and a wealth of amenities. Meanwhile, its Urban Art project, located between Kottawa and Thalawathugoda which is slated for completion by December 2020, consists of 160 houses spread over a scenic 10 acres in the Colombo suburb of Kottawa. It provides homeowners with a mixture of an apartment's convenience and security for a standalone home.
Presented by global brand Kohler, the 2019 PropertyGuru Asia Property Awards represented this year's most respected and sought-after real estate industry honours. Each year the PropertyGuru Asia Property Awards recognise the top performers in the Asian real estate sector. The culminating event is part of the regional PropertyGuru Asia Property Awards programme established in 2005. With a professionally-run judging system supervised by BDO, one of the world's largest auditing and accountancy firms, the Asia Property Awards is the gold standard in real estate.
With over 24 years of trusted excellence, Prime Group has seen its unwavering principle of being "Committed to Create A Better Place on Earth" leads it to new and innovative frontiers of success. In addition to the recent achievements at PropertyGuru Asia, the group was also named one of the most respected entities in Sri Lanka by LMD and had received the Laureate Award at Great Place to Work.
Photo captions:
Prime Group Chairman Brahmanage Premalal and Prime Group Deputy Chairperson Sandamini Perera receiving the award for the Best Developer
RELATED NEWS