NEWS FEED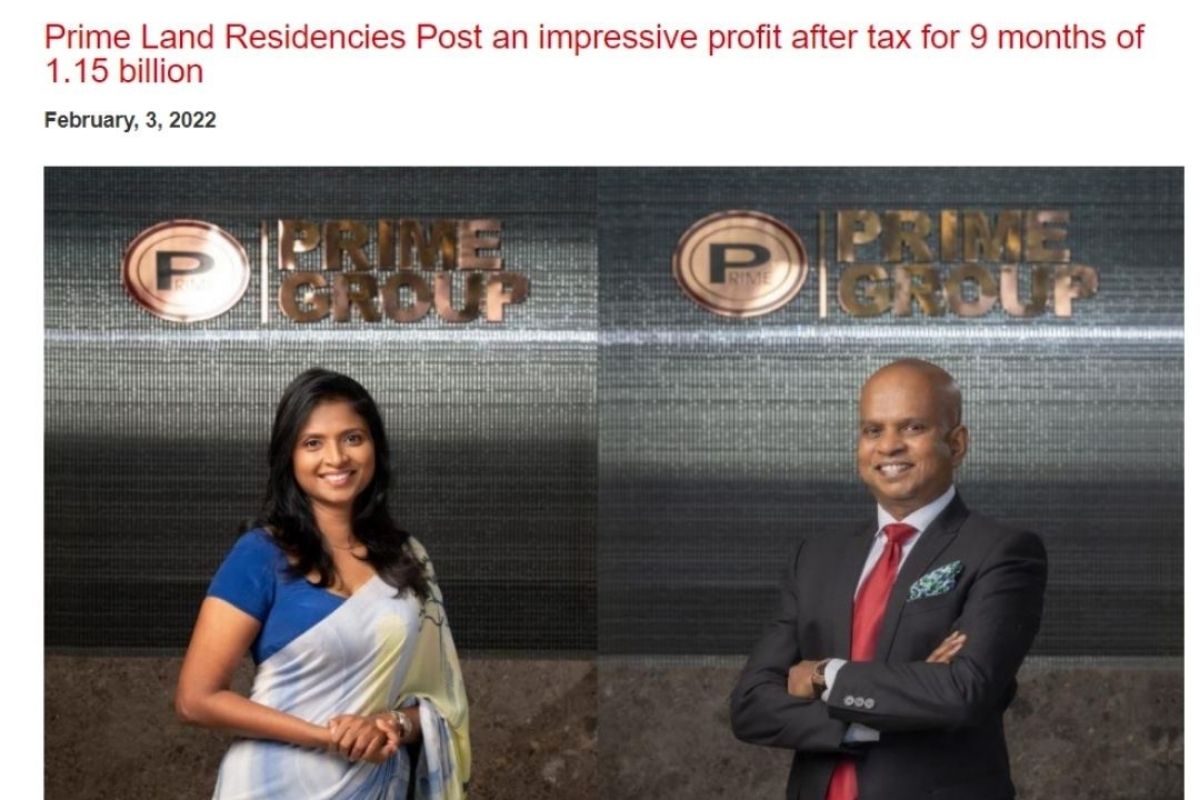 Prime Land Residencies Post an Impressive Profit After Tax for 9 Months of 1.15 Billion

2022-02-08
Prime Lands Residencies PLC (PLR) has made a profit after tax of LKR 1,158 million for the 9-month period ended FY 2021/22 while maintaining a profit after tax of LKR 450 million for Q3 of FY 2021/22.
Commenting on the results, Co-Chairman Mr. Brahmanage Premalal said, "It has been a remarkable achievement for us in the third quarter as this has been achieved during such a turbulence period. This portrays the trust and confidence placed on Prime Lands Residencies PLC by our customers who we are extremely grateful for. Moreover, this is also a significant achievement to us in terms of achieving our shareholder's expectations as we exceeded the forecast given to our investors at the IPO launched this year. These numbers signify that we will be ending the financial year with a remarkable achievement. Further Prime Lands Residencies PLC has lined up with upcoming projects in key locations such as properties adjoining the Kurunegala highway entrance, Peliyagoda highway entrance, Seeduwa/ Katunayake highway entrance with lagoon view, Nuwara-Eliya within city limits, Borella Chandraleka Mawatha is few projects to look forward to for the year 2022".
Among the highlights reported by the Company for the third quarter of 2021/22 is a revenue generation of LKR 2.6 billion. The company's earnings per share (EPS) during the 9-month period was LKR 1.28. "Our brand equity is strong. As a real-estate developer, we have earned the highest trust. This is due to our completion and handing over of thirty-six (36) Apartment developments and building strong credentials along the way," Co-Chairperson Sandamini Perera added.
"The availability of relatively low-cost financing opportunities from banks and financial Institutions on prevailing low-interest rates together with real estate, which has been a secured investment with a high return on investment, has increased the demand for real estate. In fact, Prime Lands Residencies PLC became the only real estate developer in the country to have its issuer rating of [SL] A-(Stable) re-affirmed by ICRA Lanka Ltd, a group company of Moody's Investors Services," she added.
Prime Lands Residencies has made a profit before tax of LKR 514 million in Q3 of FY 2021/22 reporting a profit after tax of LKR 450 million. There is also a nine percent (9%) increase in revenue over Q2FY22."
The company while maintaining a Gross Profit Margin of 29.87% in 3Q of 2021/22, has also recorded a Return on Equity (ROE) of 18.78%, a Net Profit Margin of 18.25%, and a Return on Assets (ROA) of 7.46% for the same period signifying a strong showing as it moves into 4Q. This demonstrates an increase of 58% In comparison to the previous year Q3 with a profit after tax of LKR 285 million.
RELATED NEWS